***ENGLISH BELOW***
Meine Lieben, 
wir sind in 2022 angekommen. Mal schauen, was uns dieses Jahr bietet. Ich wünsche euch jedoch Gesundheit, Freude, Mut und die Lust zu wachsen…und all das, was euch persönlich wichtig ist. 

Ich möchte auch mit euch gemeinsam wachsen. Deshalb biete ich dieses Jahr zum ersten Mal einen Yoga-Retreat an.  Doch ich bin nicht alleine. Ich habe mir Verstärkung geholt: Agnieszka Chruszczynska ist ausgebildet in der Alexander-Technik und zeigt uns in Workshops, wie auch in One-on-one-Sessions, wie der Körper ohne Anspannung alltägliche Bewegungen ausüben kann.
Datum: 12.05.-15.05.2022 (Beginn ca. 17:00 Uhr, Ende nach dem Brunch ca. 13:00)
Ort: Wassermühle in Hohenfinow (1:15 Std. mit der Bahn vom Hauptbahnhof)
Preis:
Einzelzimmer: 350,- €
Zweibett-Zimmer: 300,- €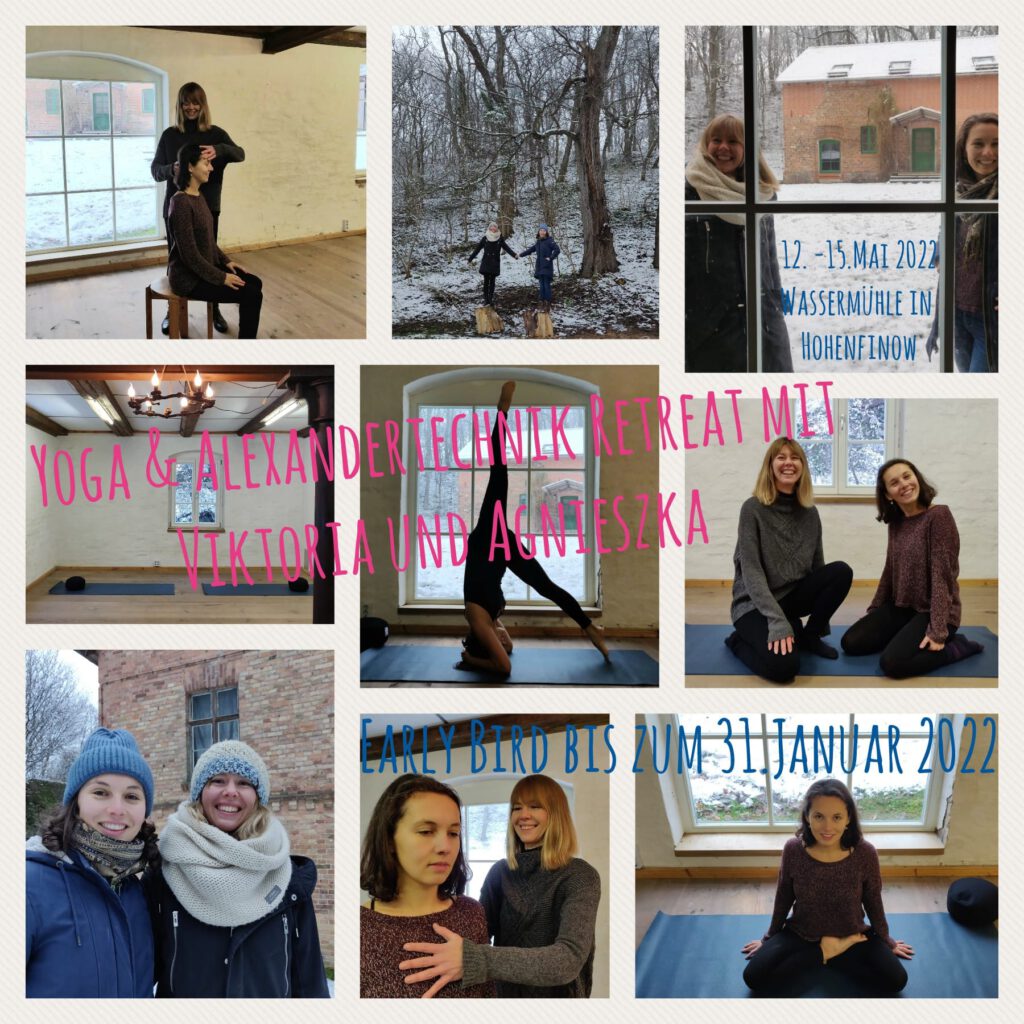 Ablauf:
Morgens: Ashtanga Yoga auf leerem (oder fast leerem) Magen. Anschließend folgt ein Brunch.
Mittags: Freizeit oder One-on-one-Session Alexander-Technik mit Aga.
Nachmittags: Alexander-Technik-Workshop
Abends: Abendessen und eine kleine Meditation oder Yoga-Nidra-Zusammenkunft, um den Tag ausklingen zu lassen.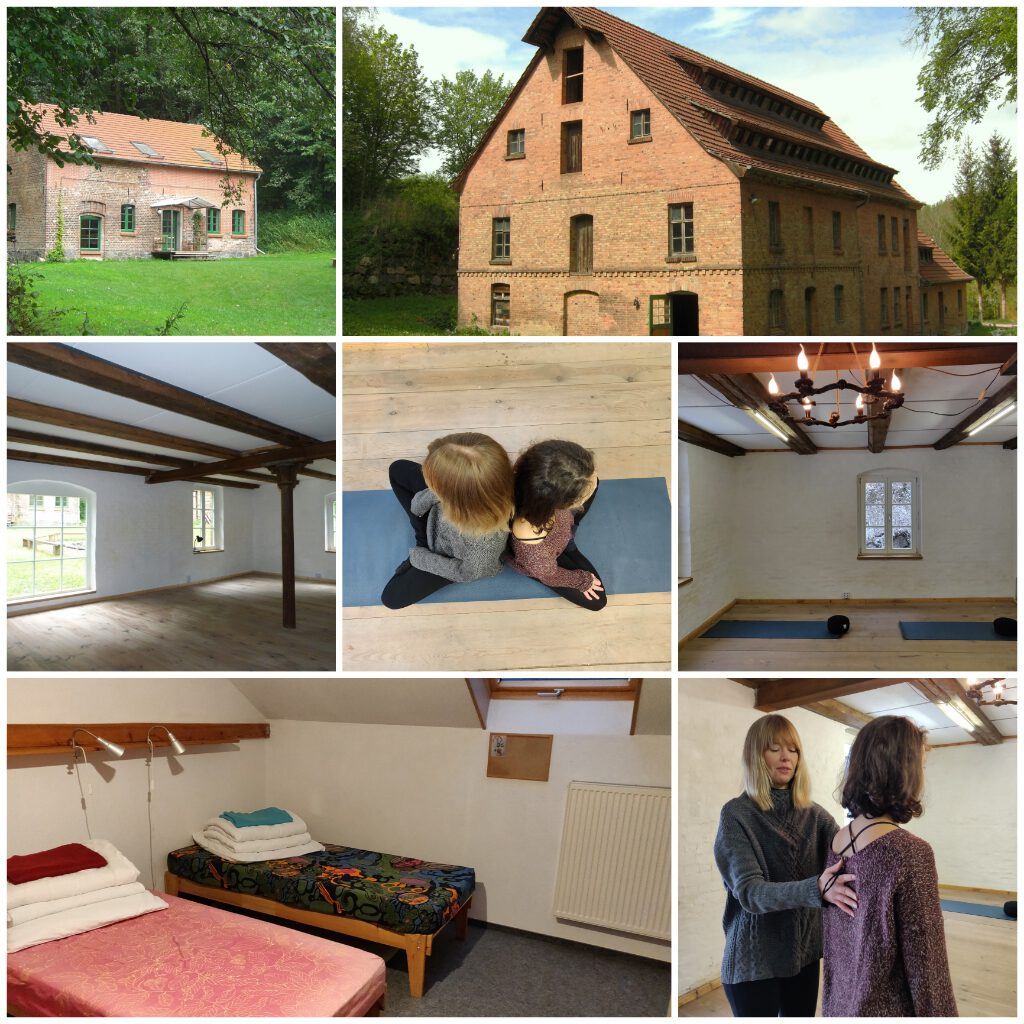 Meine Retreat-Partnerin Agnieszka wird versuchen jedem Teilnehmer eine private Schnupperstunde in den "Freizeit-Pausen" zu geben. 
Das Essen wird bio und vegan sein. 
Es gibt Einzel- und Zweibettzimmer. Alle Zimmer haben ein eigenes Bad mit Toilette und Dusche. In Hohenfinow gibt es einen Bahnhof, sodass die An- und Abreise aus Berlin kein Problem sein sollte. Um den Retreat-Ort herum gibt es tolle Möglichkeit zum Waldbaden.
Ich möchten sehr gerne diese neue Erfahrung mit euch erleben. Wenn jemand Interesse hat, aber finanziell den Retreat nicht stemmen kann, dann gebt mir Bescheid. Wir finden bestimmt eine Lösung. 
Schicke mir eine Nachricht mit deiner Anmeldung oder bei Interesse, schreibe mir einfach eine E-Mail, um deine Fragen zu beantworten.
Ich schicke eine warme Umarmung.
***ENGLISH***
Dear friends,
We have arrived in 2022. Let's see what this year has in store. I wish you good health, happiness, courage and eagerness to grow…and everything that is important to you personally.
I would like to grow with you together. That is why this year I will be offering a yoga retreat for the first time ever. But I won't be alone in hosting it. I will be supported by Agnieszka Chruszczynska, who is trained in Alexander Technique and will organise workshops and one-on-one sessions, showing up ways how the body can carry out everyday movements in a relaxing way.
Date: 12-15 May 2022 (starts at approx. 17.00, finishes after brunch at approx. 13.00)
Place: Wassermühle Hohenfinow (75 minutes by train from Berlin Central Station)
Prices:
Single room: 350 euros

Double room: 300 euros
Experience a new kind of yoga and body work!
Schedule:
Morning: Ashtanga yoga on an empty (or almost empty) stomach, followed by a brunch.
Noon: Time off or one-on-one Alexander Technique sessions with Aga.
Afternoon: Alexander Technique workshop.
Evening: Dinner and a brief meditation session or yoga nidra get-together to finish off the day.
My retreat partner Agnieszka will try to provide every participant with a private trial lesson during time off/breaks.
The food will be organic and vegan.
There will be single and double rooms. All rooms have their own bathroom, toilet and shower. Hohenfinow has a train station, so getting there and back shouldn't be a problem. The place of retreat is ideal for relaxing walks in the surrounding forest.
I would very much love to share this new experience with you. If you are interested in joining the retreat but can't afford the fees, let me know, I am sure we will find a solution.
Send me a text along with your booking or an e-mail if you are interested in joining in order to answer your questions.
Warm hugs!